Alberta Prosperity Certificates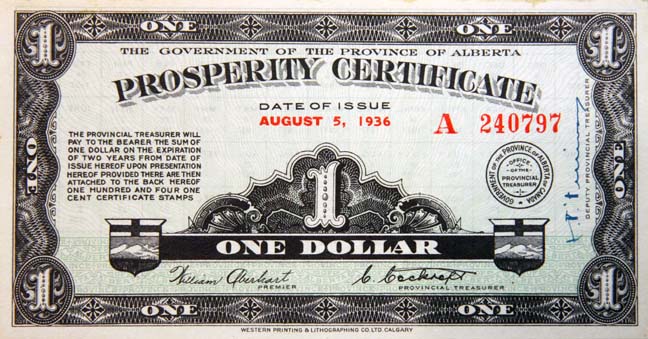 For private research purposes only!
All information protected by the copyrights of the authors.
Draft of Symposium talk by Dan Gosling
The Items Linked Below Are Not For distribution Or Sale.
Alberta Prosperity Certificates research in pdf format 20 Mb
Alberta Fought Depression With Stamps Certificates Lawrence B Hall Coin World 1972 in pdf format 1.7 Mb
Listen to the Bankers' Toadies Radio Drama at Great Alberta Law Cases (28 mins).
STATUTES OF THE PROVINCE OF ALBERTA - EIGHTH LEGISLATURE ASSEMBLY:
Chapter 5 1st Session 1936: An Act respecting Social Credit Measures. (Assented to April 3,1936.)
Chapter 7 1st Session 1936: An Act to impose Taxes on the Ultimate Purchasers of Certain Commodities for Raising Revenue for Provincial Purposes. (Assented to April 7, 1936.)
Chapter 4 2nd Session 1936: An Act respecting Prosperity Certificates. (Assented to September 1, 1936.)
Chapter 83 3rd Session 1937: An Act to amend The Prosperity Certificates Act. (.4ssented to June 17, 1937.)
ANONYMOUS "Stamped "Money"" Journal of the Canadian Banker's Association Vol. XLIII No. 4 (July 1936) pp. 381-382
ALBERTA CITIZENS' REGISTRATION COVENANT – Form B. Trade and Industry Department
SUPREME COURT OF CANADA CREDIT OF ALBERTA REGULATION ACT 1938
MYERS, MARGARET, Monetary Proposals for Social Reform, 1940. PP. 157-163
ANONYMOUS "Alberta Prosperity Certificates" Canadian Paper Money Journal Vol. 11 (1975) pp. 93-94
HALL, LAWRENCE B., "Alberta Fought Depression With Stamps, Certificates" Coin World Nov Dec 1972
FULLERTON, DOUGLAS H., Graham Towers and His Times, Chap Five: Wheat Crisis and Prairie Problems McClelland and Stewart pp. 71-86
EDINBOROUGH, ARNOLD, History of Canadian Imperial Bank of Commerce : Volume 4. – Toronto : Canadian Imperial Bank of Commerce, 1995. – 301 p., ill pp. 21-51
JACOBS, WAYNE L, "Alberta prosperity certificatesError! Bookmark not defined.", The Canadian Numismatic Journal Vol. 41 No. 8 (Oct. 1996). – p. 396 - 403, ill. POWELL, JAMES, A History of the Canadian Dollar, Appendix B Alternative Money Bank of Canada
HANSON, ERIC J., Eric J Hanson's Financial History of Alberta 1905-1950 Alberta Prosperity Certificates
GREENE, RONALD A., "Money that rots like potatoes". – Canadian Paper Money Journal Vol. 7 No. 4 (Dec. 1999). p. 116, ill.
ASCAH, ROBERT LAURENCE, Politics and public debt pages 60-63
CROSS, WILLIAM K., The Charlton Standard Catalogue of Canadian Government Paper Money, 7th edition, 1994.
Elliott, David R. & Miller, Iris., Bible Bill: A Biography of William Aberhart,